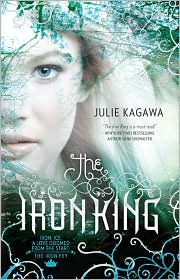 Title
: The Iron King
Author
: Julie Kagawa
Pages
: 368 pages
Source
: My kindle
Publisher:
Harlequin Teen
Genre
: Faeries/Paranormal
Summary
: On her 16th birthday, Meghan Chase's four-year-old half brother is exchanged for a changeling and she discovers that her best friend, Robbie, is actually Robin Greenfellow, aka Puck, from Shakespeare's
A Midsummer Night's Dream
. He is her guardian and will lead her into the faery world to rescue her brother. Once there, Meghan learns that she is a princess, daughter of Oberon, king of the Seelie Court. With a mortal mother and a faery king for a father, she is very powerful, and Oberon and Queen Mab, queen of the Unseelie Court, are both fighting to keep her. With help from Puck and a talking cat, Meghan sneaks into the Unseelie Court to rescue Ethan, only to discover that he is held captive by more powerful forces that could destroy the entire fey world. Meghan is a likable heroine and her quest is fraught with danger and adventure. The action never stops, and Meghan's romance with Ash, the handsome prince of the Unseelie Court, provides some romance that is sure to continue in the sequel.
Buy it here!
Review
: So, I've never read a book about faeries before. I never found them to be very appealing to be quite honest. Oh, Julie Kagawa, how you have changed me! I flippin loved this book. It was literally nohing short of amazing and one of the very few books that I think just about every YAlit lover would devour. The story follows a sixteen year old girl named Meghan, who with the help of her faery in disguise best friend Puck (yes, Shakespeare's Puck!) goes into a world called Nevernever to retrieve her brother after he has been kidnapped by The Iron King.
While searching, she meets a slew of characters, such as a cat named Grimalkin ("I am a cat.") and the gorgeous and ice cold Winter Prince Ash. Kagawa definitely channels Shakespeare through more than just Puck by having a bit of a Romeo&Juliet type of relationship (she is a Summer Princess!). Kagawa also makes some veiled comments about our environment today later in the novel, but honestly, this book is just fun. There is action, adventure, humor, and looooove! I cannot recommend this book more, though my next review will be a different book as my brain needs a bit of break from the awesomeness that I just read!
Rating
: 5 STARS